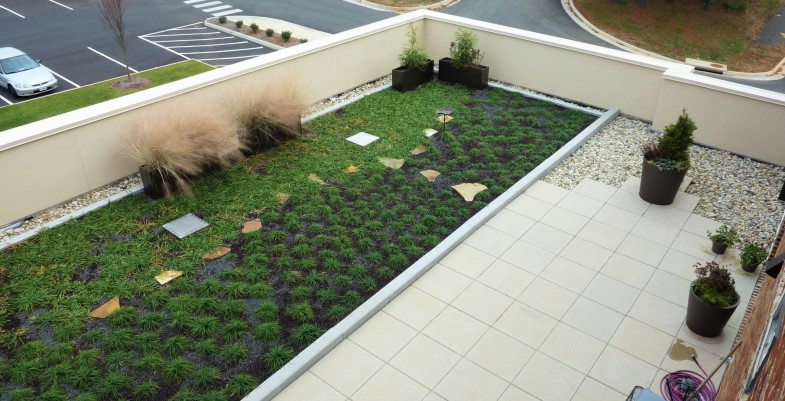 Why Consider Adopting a Green Roof?
Environmental + -
Lessen the urban heat island effect:

Vegetative roofs cool the air in urban areas, where the temperature difference can be significantly higher than its suburban or rural surroundings. They also filter out pollutants and re-oxygenate air.

Reduce rainwater runoff:

Vegetative roofs can retain 50%-90% of rainfall, helping to reduce excess rainwater demand and flooding in urban drainage systems. The vegetative system also filters the stormwater of any acid and pollution.

Energy savings:

Reduced load on HVAC systems for the building due to the thermal value of growing media/soil and vegetation in combination with the insulation; this lessens the fluctuations in temperature on the building throughout the day and saves on your heating and cooling bills.

Divert landfill waste:

A vegetative roof can last 50 years or more! It extends the life of the roofing membrane underneath the vegetative system by keeping the roof's #1 enemy, UV rays, off of the membrane. This keeps more construction waste out of landfills.

Reduce noise:

Soil & plants on the roof can greatly reduce noise levels by up to 40 decibels.

Creates:

a biodiverse environment for native species.
Social & Aesthetic + -
Sociable Space:

Can be livable, sociable space for customers, tenants and employees

Green Space:

In an urban environment, green space adds beauty to an otherwise gray landscape. Create a vibrant, fresh atmosphere.

Useful Space:

Creates more useful and profitable space in the building by creating patios, rooftop decks, walkways, etc.
Investment + -
Tax Credits:

Becoming increasingly available in municipalities across Virginia.

LEED:

You can pursue LEED credits and/or certification on the building with the addition of a green roof.

Property Value:

Potentially increase property value.

Warranties:

Systems are available with single-source warranties.
Vegetative Roofing
Green roof. Garden roof. Vegetative roof. Whatever you want to call it, it's more than just a passing trend. We led the way in Richmond with the completion of the city's first green roof in 2005. Since then, we've constructed over a dozen living, breathing roofs all over the Commonwealth. When it comes to budgeting, design, and managing the project from beginning to end, we have the expertise to make your roof thrive.
It's a multi-layer roof system that gives your building, your community, your tenants, and your wallet some substantial benefits.
View our vegetative roofing projects